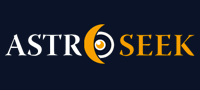 Astro-Seek.com Seek and meet people born on the same date as you ...
Monkey Chinese Horoscope Sign Year 2021
---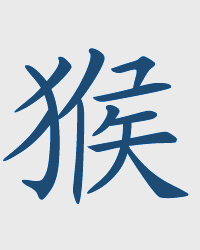 Monkey
- Chinese Zodiac Sign
Character
Agile, nimble and cunning
Yin/Yang
Yang - active - positive
Date of Birth
2 Feb 1908 -
21 Jan 1909
(earth)
20 Feb 1920 -
7 Feb 1921
(metal)
6 Feb 1932 -
25 Jan 1933
(water)
25 Jan 1944 -
12 Feb 1945
(wood)
12 Feb 1956 -
30 Jan 1957
(fire)
30 Jan 1968 -
16 Feb 1969
(earth)
16 Feb 1980 -
4 Feb 1981
(metal)
4 Feb 1992 -
22 Jan 1993
(water)
Monkey Chinese Zodiac Sign
- Characteristics, Personality, Meanings and Compatibility
Characteristics and personality of the Monkey
Monkey is a
wily trickster
, and is often hilarious. Monkeys are deceitful, but companionable and give the impression that they can get along with all the other animals. It is, however, only one of their tactics, since behind their appearance they hide only their own financial goals. They cunningly acquire services and advantages which they don't seem to ever need and take them for granted. They are, however, full of love and
even willing to always help
. They hide their poor opinion of others behind kindness and gentleness.
Monkeys are smart and of intellectual nature. They like to read everything, and read a lot. They are cultivated, even learned. Monkeys have an
excellent feel for details
and everything they see, hear and live through. They are extremely inventive and original. They can easily solve toughest life situations and problems. Monkeys have a sharp mind and can easily charm their fellow citizens, even the strong, tough, brilliant and durable Dragon. They could become the most ideal secretary to their boss. Monkeys can even resist the attractiveness of Tiger, whom they ultimately make fun off.
Monkeys are not ashamed to be dishonest or lie, if it seems to be good for their own gains. They are disingenuous, if they know it can get them out of danger. However,
whatever they do, no one can get angry with them
. Monkeys are able to charm everyone around them.
In Love, Monkeys are rarely lucky. They will
fall in love quickly
, but just as quickly discard beloved beings and find a new love. Although they are very passionate, they cool down very quickly, an act which can eventually save they from harm.
Celebrities born in the Sign of Monkey
Will Smith
,
Danny Trejo
,
Andy Garcia
,
Roy Scheider
,
Linda Hamilton
,
Hugh Jackman
,
François Truffaut
,
Teri Garr
,
Gary Busey
,
Owen Wilson
,
Elijah Wood
,
Tony Perkins
,
James Stewart
,
Patricia Arquette
,
Naomi Watts
,
Michael Douglas
,
Jim Caviezel
,
Eric Bana
,
William Fichtner
,
Tom Hanks
,
Don Ameche
,
Josh Brolin
,
Yul Brynner
,
Macaulay Culkin
,
Danny DeVito
,
Tom Selleck
,
Jack Warden
,
Jennifer Aniston
,
Geraldine Chaplin
,
Carrie Fisher
Monkey in Elements
- Characteristics


Wood Monkey
These Monkeys are capable of amazing criticism. They are honest, truthful and aggressive. They are always trying to maintain their honesty, reliability and pride. They are also the most loyal of all Monkeys, and will fight for their loved ones.


Fire Monkey
Monkeys under the influence of Fire are always good-hearted, kind, friendly and hardworking. They rely on their own performance, approach everything dutifully and are always willing to lend a hand.


Earth Monkey
These Monkeys have great intuition, ability to survive, and good feel for people and different kinds of situations. They are great actors and comedians, but they are also blessed with enormous flair and sensitivity. They love the kids and tend to cling to emotional relationships. They are cuddly and friendly.


Metal Monkey
These Monkeys behave very unusually for this sign. They are conservative and proud. Monkeys under the influence of Metal cultivate and limit their expansive energy, regulate and develop their boundaries that they then never cross.


Water Monkey
Water brings to the sign of Monkey impressive facade, dominant and proud demeanor and feel of immense force that impacts all around Monkey. The great advantage of these Monkeys is their first impression.
Monkey - Compatibility with other Chinese Zodiac Signs


Moon calendar
Moon in

Gemini
Show calendar
»
Seek users born on
Seek users by nickname